Next Auditions: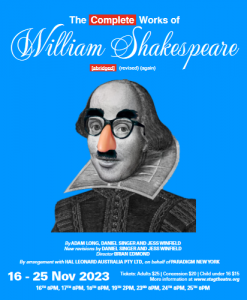 The Complete Works of William Shakespeare (abridged) (revised) (again) 
by Adam Long, Daniel Singer and Jess Winfield  New revisions by Daniel Singer and Jess Winfield.
 Performance dates:  16 – 25 November 2023 
Director – Brian Edmond 
This is not so much a play as it is a vaudeville show in which three charismatic, wildly ambitious performers, attempt to present ALL thirty-seven of Shakespeare's plays in a single performance. They have a rudimentary concept of the stories and have imperfectly memorized a smattering of famous lines. Thus armed, the three brazenly launch into their task with an earnest focus and breakneck enthusiasm. What could possibly go wrong? 
Audition Dates: Tuesday, 29 and Wednesday, 30 August – with Sunday 3 September for auditions/callbacks – if required, at Strathmore Theatrical Arts Group (STAG), 50 Loeman Street, Strathmore.  
This is a fast-paced comedy and will be great fun for our audiences and performers. We are looking for 3 experienced theatre performers who can wholeheartedly throw themselves into playing multiple roles, with energy and style as part of a tight, supportive, funny, ensemble.
It is helpful, but certainly not essential, to be experienced with Shakespearean text. 
Auditionees are requested to prepare a 1-1.5-minute comedy monologue – not Shakespearean and not from "The Complete Works of William Shakespeare". Auditionees will also be asked to read selections from the script, and selections will be emailed to auditionees. 
For all enquiries, or to book an audition time, please contact the Director, Brian Edmond, on 0417 694 567.